This site is under construction - Check back often!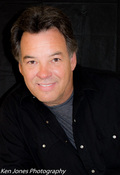 Ken Jones
- Born April 1961 in Charleston, SC. I am one of six children born in my family and raised by a loving mother, a homemaker and father who was a Musician by night and photographer by day. When asked, being the number four child I would say that I am the lower half of the middle..... People know about how the middle child always lacks attention but being the lower half of the middle was much worse! Not really... but I have always had to do a little more to get attention! My dad always thought I was a great actor... but, that's another story.
As a young boy, I was drawn to anything related to music or sound in general. I have been told that I have perfect pitch and very good hearing but I can't play or sing a lick! I blame my dad for threatening to break my fingers if I decided to play music for a living but really he knew my love was more in the area of visual arts! As a teen, I was not only his test model but his gofer, assistant on shoots and in the darkroom.He taught me how to properly shoot photography and as most new photographers in the 1970's I wasted a lot of film learning how to shoot! In 1978 I was a junior in High School working in the Audiovisual department and my teacher informed me that we just received a new video camera and recorder and it would now be my job to video record all the school events from sports to theater and everything in between! I was hooked from there and still make a living shooting video! After High School, I enlisted in the U.S. Air Force and after ten years in the military I began my civilian life in Sales, Advertising and Marketing which I worked with several publications and utilized my photography skills to get my work into several publications. in the mid 1990's I took my first job with a video production company while living in Florida and had the great experience to work with an award winning Producer who was a professor of film and video studies at SMU in Dallas, TX who taught me how to write, direct, shoot and edit video. I taught her how to sell production services! Today, I operate
DNK Media Solutions
a full service media production company! This site you are visiting focus's on my photography but there is a lot more we at DNK!
---